The 7 best vintage shops in South Bristol
Amy opened her beautifully colourful vintage shop Rhubarb Jumble on North Street, Bedminster in 2014, after she had been trading at markets etc for 3 years. Since then, we've all seen the popularity of second hand shopping grow, and it's now much more fashionable to buy second hand.
This means more lovely vintage shops have popped up in BS3, and they're all brilliant in their own special way. For example, Rhubarb Jumble's niche is 1950s-80s clothing, colourful vintage homewares, and mid century furniture – Amy has a really great eye for lamps, chairs, colour and pattern.
If you're heading south from central Bristol, please note that Gaol Ferry Bridge is currently closed (between Wapping Wharf and Southville) until January 2022 at the earliest. Make sure you plan this into your journey to BS3. We recommend taking Vauxhall bridge if you're coming from Hotwells, or Bedminster Bridge if you're coming from central or east Bristol.
We've made this handy map of vintage shops in south Bristol, to make it easy for you to find and navigate your way around them.
1.Rhubarb Jumble
The obvious first stop in your vintage tour of South Bristol – Rhubarb Jumble.
Situated in 52 North Street, opposite  Toyville Games  and Kask – Bristol's natural wine bar, they are in good company.
Shop Rhubarb Jumble
Rhubarb Jumble's Instagram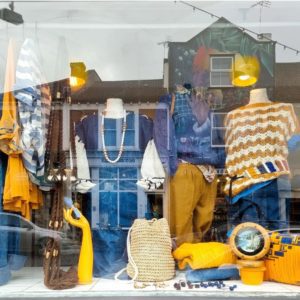 2. Eclectic men's and women's vintage at North Street neighbours, Patina
A mere minute's walk from Rhubarb Jumble, you'll find Patina at 61 North Street, sandwiched between Friendly Records and The Old Bookshop.
Since opening in May 2019, Patina has evolved to sell an eclectic mix of high quality vintage pieces from the 1930s to 1990s for men and women. It's always worth a rummage in here to find beautiful, unusual pieces, and there's often a sale rail out the front too, if the weather is good.
Patina website
Patina Instagram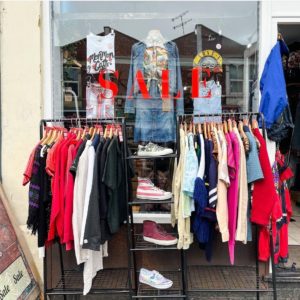 3. Something Elsie Vintage for colourful clothing and accessories
Kate started trading her colourful vintage clothing at the beloved Tobacco Factory Sunday Market in 2013, followed by Frome Independent market and other vintage fairs. In 2018, Something Elsie had a pop up shop in the back of Casper at 221 North Street, and ended up staying until April 2022, when Casper sadly closed its doors for good.
Luckily, Kate already had another established vintage shop – Something Elsie opened at Wapping Wharf in June 2019, where she stocks colourful 1980s and 90s clothing, jewellery, accessories and cards.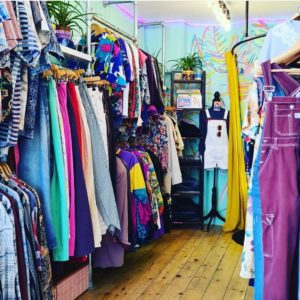 4. Blank Vintage for Bristol's cheapest vintage
Blank Vintage is the newest kid on the block, owned by Louie and Imogen from our lovely local coffee spot at 60 North Street, Albatross Café. They stock lots of vintage menswear (something that's often lacking in vintage shops) as well as womenswear, all at a bargain price – in fact, they say they're the cheapest vintage in Bristol!
Find Blank down near Bristol Loaf and Windmill City Farm, in unit 19 at Windmill Farm Business Centre. Make a note though, Blank Vintage is only open on Saturdays 1-6pm.
Blank Vintage on Depop
Blank Vintage Instagram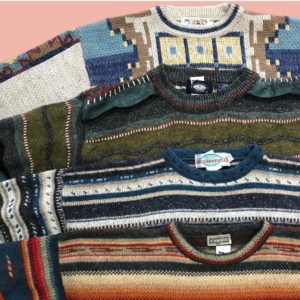 5. Endless vintage furniture and homewares at Dear Old Thing
Over on West Street you'll find Dear Old Thing – a shop which feels like you're entering the vintage furniture equivalent of Mary Poppins' bag. The shop front is pretty small, but head through and it opens up to a large warehouse full of amazing vintage furniture and other homewares.
You can easily spend an hour in this vintage shop, browsing all the items, which also include smaller items like mirrors, paintings, crockery and more.
Dear Old Thing website
Dear Old Thing Instagram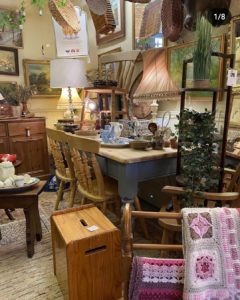 6. Lou Mack and Vintage Village at East Street Emporium
East Street Emporium is a collective of independent shops all under one roof, and has been open since September 2021. You'll find over 35 different creative makers and stockists, from plants, handmade skincare and candles, art, jewellery, and of course, vintage.
There are two vintage stockists here – founder of the emporium Lou Mack sells hand-picked vintage and vintage-inspired clothing from as far back as the 1920s, and Vintage Village sells vintage homewares, glassware, toys and books.
East Street Emporium website
MACK Vintage website
Vintage Village Instagram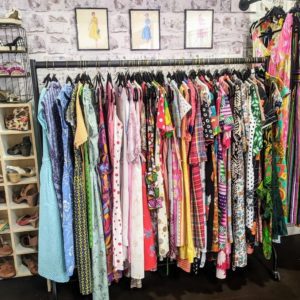 7. Hidden vintage treasures at Revival Market
You never know what you'll find at Revival Market, so it's always really fun to have a rummage. They stock a mixture of mens and womens vintage clothing, homewares and trinkets. jewellery, crockery, glassware. I always get lost in the baskets full of old photos and postcards.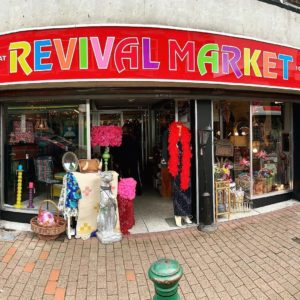 So as you can see, if you come vintage shopping in South Bristol, it's highly likely that you'll find some wonderful and unusual treasures to come home with you.
We've loved watching Bedminster's lovely community of small businesses grow, and each new vintage shop opening makes BS3 a real destination for vintage shopping. Stocking vintage means no two shops have the same items, of course, and only makes shopping in south Bristol all the more vibrant and interesting.
Don't forget to check out and save our map of South Bristol vintage shops, and feel free to share this with your pals who might find it handy. See you in BS3 soon!